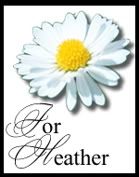 Today is the day! Once again, we've been afforded the unique opportunity to reach out through the blogoshpere and touch someone in need. By making a contribution of as little as $1 or as much as a commitment of faithful, fervent prayers on behalf of our beloved
Heather
and her family, we can make a difference! For more information about this love offering, click
here
.
As many of you are aware, Heather is facing some incredible challenges, medically and financially, which you can read about
here
. If you aren't familiar with her story, you can read about it
here
and
here
. Her complete dependence on the Lord is her greatest strength, and I am amazed and inspired by her faith. She is certainly no stranger to overwhelming obstacles, having faced many challenges in the last few years with her daughter, Emma, whom you can read about
here
.
I encourage you to take part in this effort to bless Heather's socks off, whether you are able to give financially or simply by committing to pray for her and her loved ones. Let us storm the gates of Heaven with our prayers and flood the coffers at PayPal with our gifts. Head on over to
BooMama's
now. You will be blessed by the outpouring of love, guaranteed!
Bring on the rain!