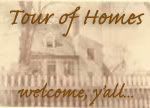 July 28th is the big day for the big
event
hosted by BooMama.
This is not a contest. It's a fun way to get to know more about one another. Like dropping by to say hi without, you know, actually dropping by.
The idea is to 1) give people some insight into the "real" lives of the bloggers they read and 2) demonstrate grateful hearts for our homes - no matter the size. All the glory belongs to God.
Run on over
there
to get the code and get the word out. Hurry! Get those cameras ready! Snap snap!